Railway Manufacturing
CREW Railway Manufacturing Vision
By 2025, We aim to design, develop and produce Light weight, technologically superior Rail Coaches / Cars indigenously as per 'Make in India' program and that will be of World Class, Products & Services ensuring Quality & Safety, adding strength to Rail Industry.
Mission @ CREW Railway Manufacturing
Ensuring application of modern technology at par with global standards
Carry out Research and Development for cost effective / innovative products.
Establishing well defined Goals in our business approach.
Enhancement of the internal systems and standards for quality deliverables in time.
Adapting the Organization open for technological improvement.
Adapting best quality materials and services.
CORE ACTIVITIES – The Complete Diversification
We commit ourselves to achieve excellence in the followings areas
Design, Manufacture, Supply, Integration, Furnishing and Commissioning of Rail Coaches, Products and Rail Systems.
Execution of bulk material handling projects on EPC and BOO. Also service provider for Operation & Maintenance.
Manufacture & Supply of various Material Handling equipments.
Coal unloading and transportation in major ports in India and Fujairah (UAE)
Coal mining covering Excavation, Crushing, Storing, and Transportation.


| Major Machinery | Testing Equipment |
| --- | --- |
| Auto Aligned Laser Welding | Spectrometer |
| Robotic Spot Welding | Universal Testing Machine |
| Laser Cutting Machine | Non Destructive Testing Facility a) Dye penetrant b) Magnetic Particle c) Ultrasonic |
| CNC Plasma Cutting | Digital microscope for macro testing. |
| Semi-Automatic Spot Welding | Vickers Cum Brinell Hardness testing |
| CRF Line | High Voltage Tester. |
| Press brake | Megger (500/100 Volt DC) |
| Shearing | Continuity Tester (10 point with expandable ports) |
| MFDC IT Gun Spot welding | Kelvin Double Bridge |
| Radial Drilling | Flexible Tester as per IEC 61386 |
| 5 in 1 Iron Worker | Impact Tester as per IEC 61386 |
| CNC Turning Centre | Fire Retardant test chamber |
| Lathe | |
| Bandsaw cutting | |
| RTIG Welding | |
| MIG Welding | |
PRODUCT PORTFOLIO


Our involvement in major types of coach cater to
Long Running Conventional Trains
Intercity Trains
Sub – Urban Trains
Vande Bharat Express
Rail Products in our range of production
Complete Rail Coach Shell / Car Body
Under-frame / Under Car Assembly
Sidewall Assembly
Roof Assembly
End wall Assembly
Cable Tray and Duct assembly
Front Part Assembly
End Part Assembly
Bogie Bolster
Bogie frame
Partition Frames
Door Cut out Assembly
Seat and Berth
All Types of Sliding Doors
All Types of Luggage Racks
Sidewall Panel, Roof & Flooring
Fuel Tank
Water Tank
Cable Harness
Switch Board Cabinet (RDSO Approved)
Sidewall Panelling & Wiring
Control Panel
Transformers
Set of Panel (HV, LV, RBC)
Battery Box
Capacitor bank
KEY CLIENTS / CERTIFICATIONS



FURNISHING ACTIVITIES
We offer complete Mechanical and Electrical furnishing for various types of coaches at client premises. Our electrical furnishing works covers for about 2/3rd among the total production of Rail Coaches by ICF.
The various types of coaches for Mechanical and Electrical Furnishing are:

Complete Rail Coach Shell / Car Body
Diesel Electric Tower Car (DETC)
Military Langar
DEMU IGBT Trailer
SV/DPC (Spart)
ARMVAC (Spart)
ARTV (Spart)
LWLRRM (LHB Power Car)
LSLRD
LHB
LWCBAC
LWSCZ
ANTODAYA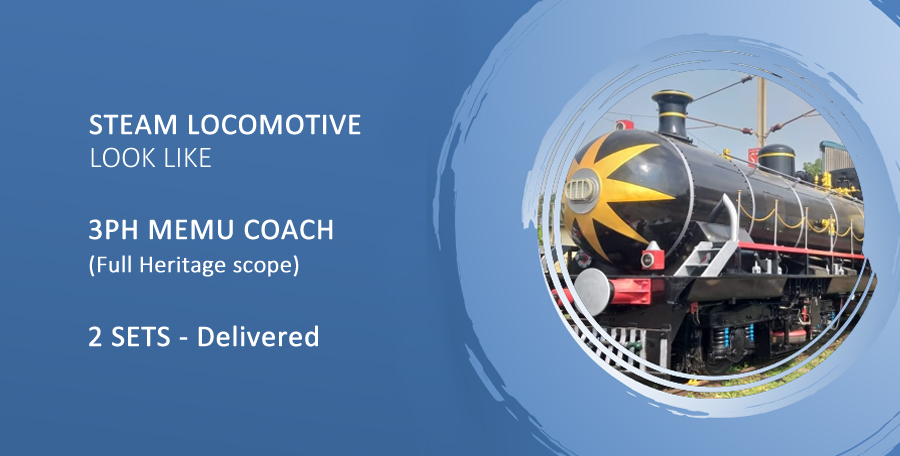 The major Furnishing works carried out by CREW are as follows
Complete interior mechanical and electrical furnishing works
Load test and performance
Engine and alternator alignment
Hydraulic & coolant pipe line fabrication and erection

Apart from furnishing, we also carry out the Installation, Commissioning and test run of the Diesel Engine systems and accessories for DETC.
ANNUAL PRODUCTION CAPACITY